Published On April 26, 2017 » 917 Views»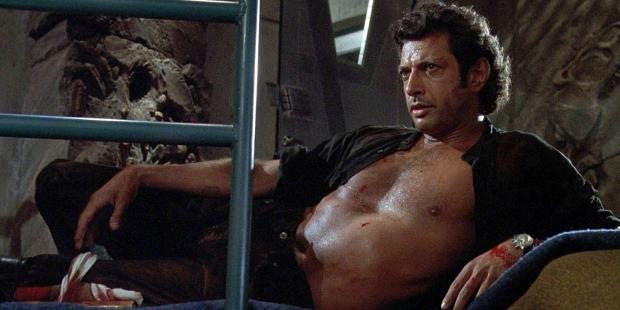 The living meme Jeff Goldblum is ready to cash in. He has somehow survived two bouts inside the world of life-threatening dinosaurs, and now he's going in for round three.
The 64-year-old actor has officially signed on to reprise his role as Dr. Ian Malcolm in the upcoming sequel to Jurassic World.
He will be joining returning stars Chris Pratt and Bryce Dallas Howard. No word on how big his role will be, but we're willing to bet it's a minor role.
Last year, Goldblum spoke to Fandango about the possibility of returning to the franchise, and this is what he had to say…
"I'm nothing if not open. I'm like an open-faced sandwich. My door is not always open—I took the door off. I removed the hinges from the door. I'm too open. I'm like a chicken piccata. What was I about to say? Oh yes, the two [Jurassic Park] movies I did with them were plenty. If I never did anything more, I'd certainly be well satisfied."
Ah, you gotta love the Goldblum. No one has embraced a meme quite like him. We're glad they invited him back for Jurassic World 2.
The sequel, which is being directed by J.A. Bayona, is scheduled to hit theaters June 22, 2018.
[mashshare]
---
---
Comments
comments