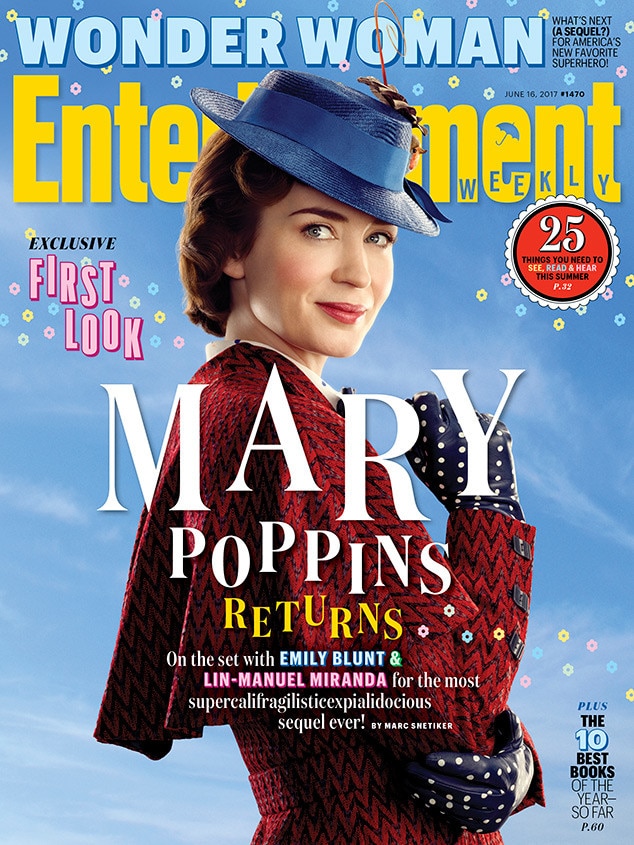 It's all happening, folks. Disney's Mary Poppins Returns won't hit theater until Christmas 2018, but the studio is already pushing the marketing for this film hard.
A new image of Emily Blunt as Mary Poppins was released inside Entertainment Weekly's June 16 issue. The magazine takes readers behind the scenes of the film…18 months before it actually gets released.
Blunt told the magazine she hopes the movie will be able to stand alone from the original…
"It's a very nostalgic couple of words, isn't it? I hope what we're doing, and it certainly feels this way to me, is beautiful and profound and will be able to stand alone from the original."
The sequel will pick up 25 years after the events of the first movie, and we now know more details about the film, thanks to this description from E! News:
"Michael Banks (Ben Whishaw) is all grown up and living at his parents' old house on No. 17 Cherry Tree Lane with his wife and three children. After his wife's sudden death, the entire Banks family—including aunt Jane (Emily Mortimer) and housemaid Ellen (Julie Walters)—is devastated with grief. In with the wind comes Mary, who leads Michael's children on a series of adventures: to the top of Big Ben, the bottom of the ocean, and into magical encounters with animated dancing penguins and upside-down cousins."
Should be interesting to see if they can capture the magic of the first film. We have our doubts, since we typically hate sequels/remakes, but there are a lot of talented people involved with this project.
Maybe they have created something special.