Published On July 23, 2015 » 1864 Views»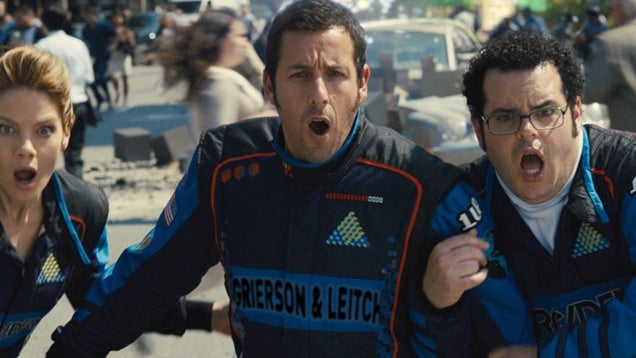 I'll admit, when I first saw the trailer for Pixels, I thought it had a chance to be a really funny movie. But then as time went on, it became clear to me that all the funny bits in the film were included in the trailer.
This was confirmed this week when the first reviews started coming out.  The Chris Columbus directed film currently sits at a miserable 13% on Rotten Tomatoes. Of course, that number will continue to change, but it's not looking good for Adam Sandler.
39 reviews have officially been counted and only 5 have come back with a "fresh" rating. Most critics have slammed the movie, and almost all of them are blaming Sandler. They claim this film could have been great, but unfortunately it got "Sandlerized."
Justin Chang of Variety had this to say…
"For the remaining 99% of the moviegoing population, this slapdash, casually sexist revenge-of-the-nerds fantasy offers some mild visual distraction with its massive CGI renderings of Pac-Man, Donkey Kong and other old-school video game characters that have been co-opted here by malevolent space invaders, challenging Earth to the mother of all intergalactic arcade battles. Over the years, the actor's delight in playing the egregiously stupid man-child has slowly calcified into laziness bordering on fatigue; where Sandler once exulted in our outrage (and frequently, our laughter), he now seems barely capable of mustering enough effort to carry a scene, let alone advance to level 255 of 'Galaga.' There's no joy left in his shtick."
We would show you more reviews, but the quote you see above pretty much covers it all. It's sad to see how far Sandler has dropped. Back in the day, his name was enough to sell a movie, but now his name is enough to destroy a movie.
At least we'll always have this incredible scene…